"As spiritual children of the unbroken line of faith handed down to us, we are members of the very same Church as the Apostles of the New Testament."
(as spoken by St. Sebastian Dabovich

)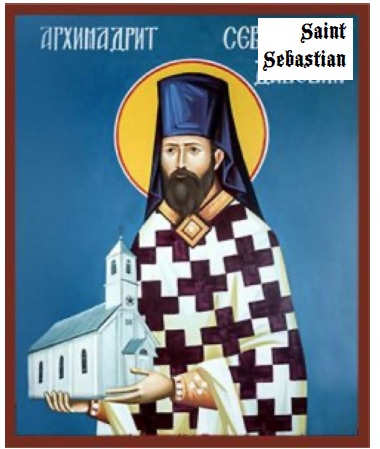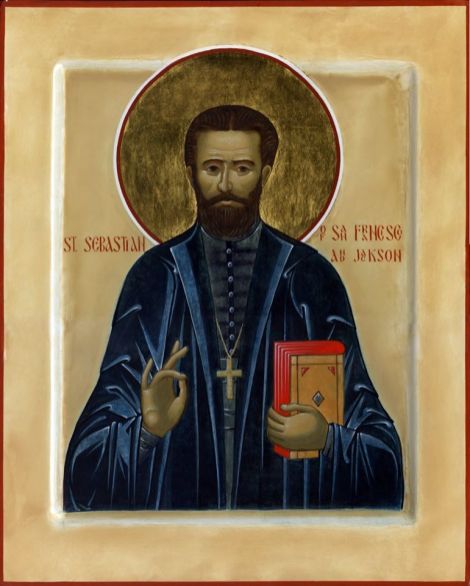 See Revised Special Notice Below Regarding Our Response To
The COVID-19 Virus Pandemic. (Updated on 4/1/20)
We are an Orthodox Christian mission parish holding services in the Northwestern Michigan area, all in English. The Diocese sponsoring our parish, and welcoming seekers or Orthodox faithful from all ethnic origins, is the Diocese of Chicago & Mid-America of the Russian Orthodox Church Outside Russia.
Our services are held in observance of the "Julian" Calendar (the so-called "old calendar").

Upcoming Service / Event Dates & Times
(at Suite 111, Ashland Park Condo #1)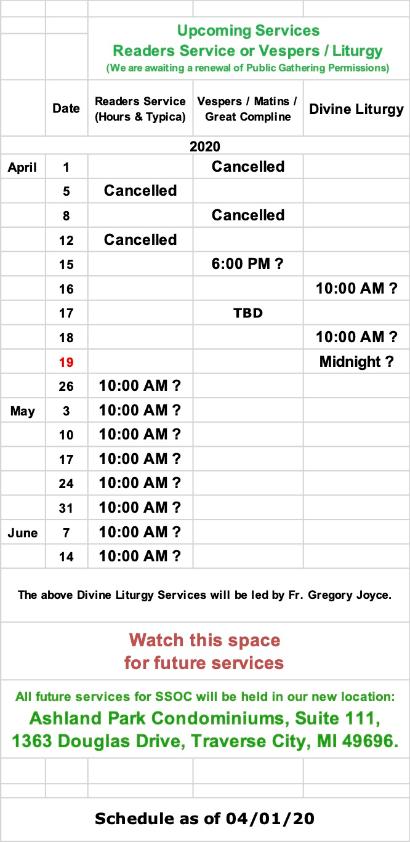 We have recently secured a more suitable worship location that will allow the sanctuary area to remain in a "fully enabled" condition and not require setup and tear-down for each service. Upcoming services will be listed on the left side column on this page. We meet each Sunday, beginning February 2, 2020, at 10:00 AM at:

Ashland Park Condominiums, Suite 111
1363 Douglas Drive, Traverse City 49696
See map on "Contact Us" page on this site
For more detail,
please call, or email our Priest:
Father Gregory Joyce
using the following contact information:
Phone:

(734) 649-5746
Email:
Kingdom_Forever
@stsebastianorthodoxchurch.org
(See "Contact Us" Page for a user-friendly form for emailing)
Our Icon bearers for our Sunday of Orthodoxy procession on March 8, 2020!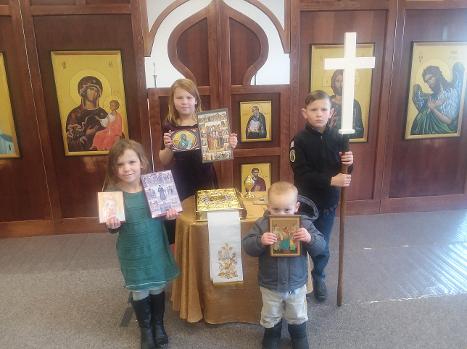 This Special Notice is an update as of 04/01/2020.
Regarding actions and precautions being taken by our Mission Parish during this time of tumult and uncertainty brought about by the coronavirus and the associated infection being referred to as COVID-19, the Diocese of Chicago & Mid-America has issued the following instructions and guidance:
https://chicagodiocese.org/news_200317_1?fbclid=IwAR1CA1Ii8LceM3FnF_l8CPms6VKb5Eslun93ydqaNNcJ09OJetdeiVAiS5g
For St. Sebastian Mission Parish, it is clear that we are to take this VERY seriously. In light of Archbishop Peter's direction, as stated in the Diocesan announcement provided in the link above, as well as knowledge of directives from the State of Michigan Executive Branch of Government, we will follow the specifics provided below until at least April 12, 2020:
1. All services ARE BEING CANCELLED out through April 12. We await any revised directions to the public from our State of Michigan Executive Branch. For Reader Services on each Sunday, the full service text will be prepared, as usual, and then sent out by email to those on our current email distribution list. In addition, the precautions and safeguards, as previously communicated, will continue, even when services are reinstated, as follows:
Hand sanitizer will be available for all to utilize, and all are encouraged to frequently cleanse their hands accordingly.

All are encouraged to greet each other without hugs and handshakes.

Family units are encouraged to stay "gathered" as a unit as much as possible.

The wearing of a face mask has been clarified as being helpful in preventing the transmission of a virus to those close to the person wearing the mask. Only N95, or N100, style masks will shield the person wearing such a mask from inhaling airborne droplets that might be present.

As has been good judgement in all prior situations of illness, anyone with a persistent cough or fever, or any similar symptoms of COVID-19, should seriously consider the risk they pose to others and stay at home until such time they have recovered fully. This has always been the recommended procedure.

A set of tongs will be available for each parishioner to utilize for picking up any piece of prosphora during the ending of any of our Reader Services.

Individual paper cups will be used for partaking of Holy Water during the ending of our Reader Services. During this time, the faithful are not obligated to kiss a priest's hand when receiving a blessing on occasions when a Divine Liturgy is served.

The faithful should not feel that they must kiss public icons. At the same time, we should keep in mind that all icons are miraculous, and that many martyrs died in the struggle with iconoclasm and that we, as Orthodox Christians hold icons in high esteem.

Anyone with knowledge of having been exposed to the COVID-19 illness should self-quarantine for 14 days.
2. When coming to the cross after a Divine Liturgy there will not be a veneration of the Cross, but the holy bread will be distributed without the cross. The distribution of the prosphora (holy bread) will occur either by use of tongs, or the use of a sanitary food-serving glove.
3. After the Reader Service each Sunday, the moleben "In Time of Destructive Pestilence & Deadly Plague" will be held until the pandemic has passed.
4. To state the seriousness of the threat: this is a war. We must address this threat "head-on". Statistics from countries having already experienced large numbers of victims show that the number of confirmed cases of infection from COVID-19 is only a small percentage (14% based on studied numbers) of the total number of the population with the infection, but not yet with symptoms. Thus, the number of un-diagnosed "carriers" is very high compared with those confirmed as infected.
We are citizens of our country and our state. Our national and state (and local) health officials are asking us to do our best not to spread COVID-19 for a very good reason: so that the health system is not overwhelmed at the beginning of the outbreak. In Italy they did not take this seriously enough. Because of that, people have died that could have been saved – if only there had been enough ventilators and ICU beds. But there were not because they thought this was all hysteria. Of course, there is plenty of hysteria around (witness the panic buying of toilet paper and many other common items). But what all are being asked to do is NOT hysteria. It is wise. Let us be wise. Let us pray for wisdom. And for God's mercy on us all.
(Our new Facebook Account is coming soon. A LINK will appear here!)