Our NEW Location: 1396 Douglas Dr., Suite #22C, Traverse City, MI 49696
Note that a catechetical class intended to assist anyone in better understanding the rich history and canonical teachings of Orthodoxy is being held each Wednesday evening by Fr. Micah following the service of Akathist to the Mother of God at 6 PM. The most recent audio recordings of the class are posted at the top of the "Links For Seekers" page on this website.
Special Note Regarding Resumption Of "In-Person" Services
We are very grateful and humbled that our Diocese is allowing the resumption of our Reader Services beginning Sunday, May 31, and thereafter. However, due to the limitations on the allowable number of attendees, rooted in the social distancing requirements, we hereby request that if you, or your family unit, are planning to attend any future service, that you alert us at least 48 hours in advance, by emailing us at the following address, and provide the number of persons in your party, at a minimum:
This requirement will be eliminated when our Diocese determines that it is no longer needed. Thank you, and may God grant us a peaceful, healthy, and orderly return to our earthly habitation without the pandemic-related restrictions.
Also, Please READ The Revised "SPECIAL NOTICE" Further Below On This Page provided by Father Micah on 02/01/2021.
"As spiritual children of the unbroken line of faith handed down to us, we are members of the very same Church as the Apostles of the New Testament."
(as spoken by St. Sebastian Dabovich

)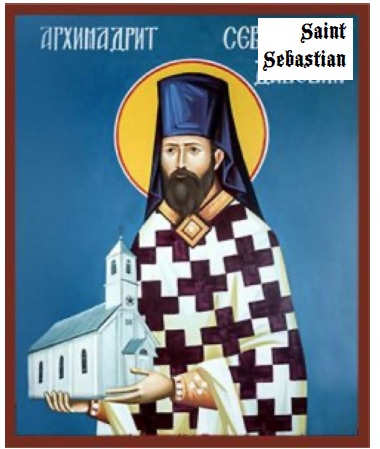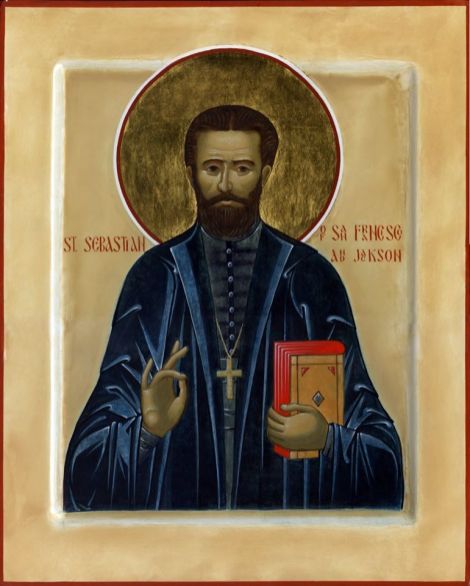 See Revised Special Notice Below Regarding Our Response To
The COVID-19 Virus Pandemic. (Updated on 02/01/2021)
We are an Orthodox Christian mission parish holding services in the Northwestern Michigan area, all in English. The Diocese sponsoring our parish, and welcoming seekers or Orthodox faithful from all ethnic origins, is the Diocese of Chicago & Mid-America of the Russian Orthodox Church Outside Russia.
Our services are held in observance of the "Julian" Calendar (the so-called "old calendar").

Upcoming Service / Event Dates & Times

Upcoming services will be listed on the left side column on this page. We meet each Sunday, beginning February 2, 2020, at 10:00 AM at:
1396 Douglas Drive,
Suite #22C
Traverse City 49696
See map on "Contact Us" page on this site
For more detail,
please call, or email our Priest:
Father Micah Chisholm
using the following contact information:
Phone:

(989) 324-8773
Email:
Kingdom_Forever
@stsebastianorthodoxchurch.org
(See "Contact Us" Page for a user-friendly form for emailing)
Our Icon bearers for our Sunday of Orthodoxy procession on March 21, 2021!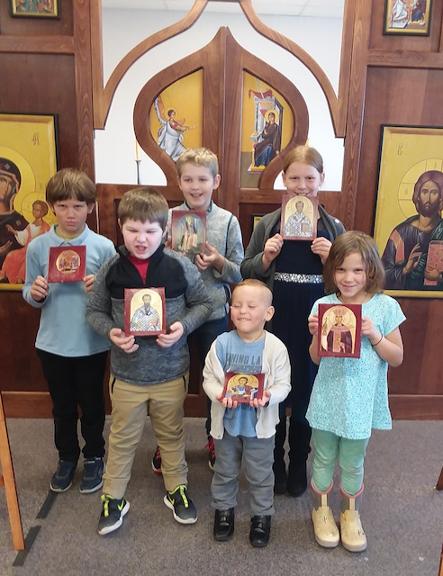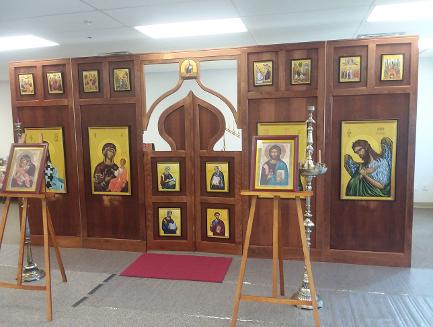 A video of Fr. Micah's most recent homily can be viewed here:
This Special Notice is an update as of 02/01/2021 from Fr. Micah.
I would like to take a brief moment to address the current state of our parish's coronavirus guidelines, having reviewed directions given by our Archbishop and the Dean/Rector of our parish. The goal of this is simply so that there is a consistent understanding of what is expected. I am happy to answer any further questions that anyone may have. The Dean of the Michigan ROCOR parishes, Archpriest Gregory Joyce is also happy to discuss.
There are three principles undergirding these guidelines, which are all central to our lives as Orthodox Christians: Love, Obedience and Sobriety. We are called to love - God and neighbor. The essence of love is sacrifice for the sake of the other. Everything that we do, say and think must be rooted in love. As Orthodox Christians we are under authority. This does not mean we check our minds at the door. It does mean that we make decisions within the context of the life of the Church and the authorities over us in the Church. We are chiefly under authority to Christ, which we find expressed in the ministry of the Bishop and those priests he appoints to serve the flock. With the exception of heretical teachings or immorality, obedience to the ruling bishop of a diocese is expected of the faithful and understood to be an essential aspect of maintaining spiritual health. Finally, we are called to sobriety - which means stability and self-control. We seek to walk a disciplined and orderly path, not veering to the right or the left, but simply toward Christ. We must not give ourselves over to anything which leads us from this path to Christ. Fear, despondency, despair, conspiracy, violence - none of these have any place in our lives. That's not to say we never experience those things, but they are all things we must struggle against and ask for Divine assistance in our struggle.
Over the past 10 months we have received various communications from federal, state and religious authorities regarding "best practices" and "requirements" for how to respond to the coronavirus. Each person is entitled to their own opinion about these communications. For the past several weeks we have had posted guidelines regarding our parish and the coronavirus. I've had some questions recently about them, and some concern about the consistency of their application. I am posting them here again, with slight modification, and I ask you to read them prayerfully. To consider them in light of the foundation of Love, Obedience and Sobriety. To seek Christ in the midst of these frustrating times, instead of wandering to the right or to the left. Again, I am available to anyone with further questions regarding these guidelines.
Our parish will remain open for worship. We will continue to offer the Akathist Hymn, Catechetical Class, Vespers, Divine Liturgy, Coffee Hour and Church School.
Under no circumstance will we alter the way in which we distribute Holy Communion. The Holy Gifts and the sacred vessels used to serve them can in no way transmit disease for they are the very Body and Blood of Christ, the source of our Life and Immortality.
We will practice social distancing to the best of our ability, realizing that in our present building this presents a very real challenge.
Those who are sick or whose family members are sick should stay home, just as would be expected if you or a family member had pink eye or strep throat. The principle of avoiding the unnecessary spread of illness has always been operative in the Church.
Hand sanitizer will continue to be placed near the entrance to the Church. The faithful are encouraged to use it.
Those who are considered to be at high risk should wear a mask during services they attend. All those who can wear a mask are asked to wear a mask during the services they attend. If one has a medical reason which makes this impossible, they are exempt. Children three years of age and under are exempt. The bishop has indicated that the clergy and choir, while performing their duties in the altar or at the chant stand do not need to wear a mask, with the exception of serving Holy Communion, at which time clergy will wear a mask. We are asked to not politicize this issue. As our rector has written "Thou shalt not kill" trumps any political or philosophical statements. His point being, that if wearing a mask even slightly protects someone from becoming ill, it is worth doing.
I pray for the day that this is all behind us. In the meantime I pray that we can weather the storm together with love, patience and grace. Please pray for Archbishop Peter, for his health and that God would give him wisdom as he leads our diocese. Please pray for our Rector, Father Gregory, along with myself and all of the clergy, as we seek to walk a balanced road, guiding our parishes through these challenging times.
(Our new Facebook Account is coming soon. A LINK will appear here!)