Our location: 1363 Douglas Dr., Suite #111, Traverse City, MI 49696
Note that a catechetical class intended to assist anyone in better understanding the rich history and canonical teachings of Orthodoxy is being held each Wednesday evening by Fr. Micah following the service of Akathist to the Mother of God at 6 PM. The most recent audio recordings of the class are posted at the top of the "Links For Seekers" page on this website.
Special Note Regarding Resumption Of "In-Person" Services
We are very grateful and humbled that our Diocese is allowing the resumption of our Reader Services beginning Sunday, May 31, and thereafter. However, due to the limitations on the allowable number of attendees, rooted in the social distancing requirements, we hereby request that if you, or your family unit, are planning to attend any future service, that you alert us at least 48 hours in advance, by emailing us at the following address, and provide the number of persons in your party, at a minimum:
This requirement will be eliminated when our Diocese determines that it is no longer needed. Thank you, and may God grant us a peaceful, healthy, and orderly return to our earthly habitation without the pandemic-related restrictions.
Also, Please READ The Revised "SPECIAL NOTICE" Further Below On This Page.
"As spiritual children of the unbroken line of faith handed down to us, we are members of the very same Church as the Apostles of the New Testament."
(as spoken by St. Sebastian Dabovich

)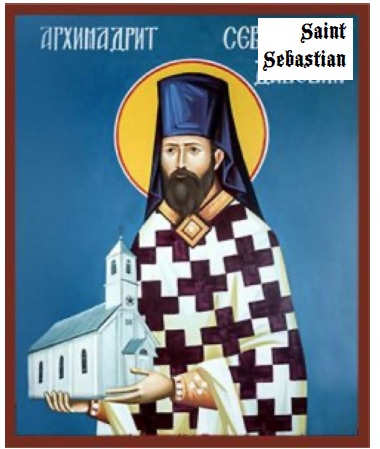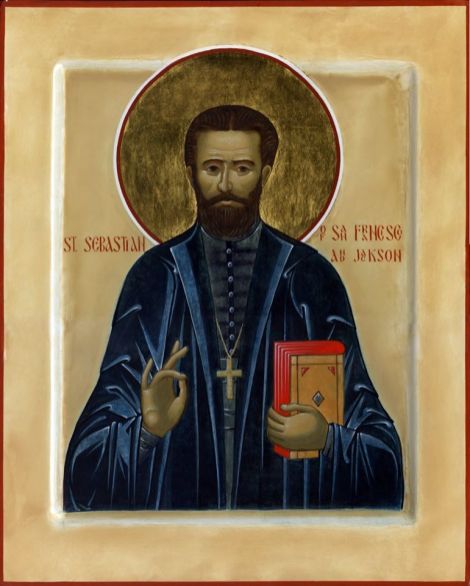 See Revised Special Notice Below Regarding Our Response To
The COVID-19 Virus Pandemic. (Updated on 5/25/20)
We are an Orthodox Christian mission parish holding services in the Northwestern Michigan area, all in English. The Diocese sponsoring our parish, and welcoming seekers or Orthodox faithful from all ethnic origins, is the Diocese of Chicago & Mid-America of the Russian Orthodox Church Outside Russia.
Our services are held in observance of the "Julian" Calendar (the so-called "old calendar").

Upcoming Service / Event Dates & Times
(at Suite 111, Ashland Park Condo #1)

Upcoming services will be listed on the left side column on this page. We meet each Sunday, beginning February 2, 2020, at 10:00 AM at:
1363 Douglas Drive,
Suite #111
Traverse City 49696
See map on "Contact Us" page on this site
For more detail,
please call, or email our Priest:
Father Micah Chisholm
using the following contact information:
Phone:

(989) 324-8773
Email:
Kingdom_Forever
@stsebastianorthodoxchurch.org
(See "Contact Us" Page for a user-friendly form for emailing)
Our Icon bearers for our Sunday of Orthodoxy procession on March 8, 2020!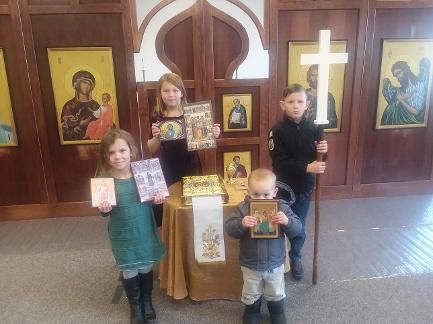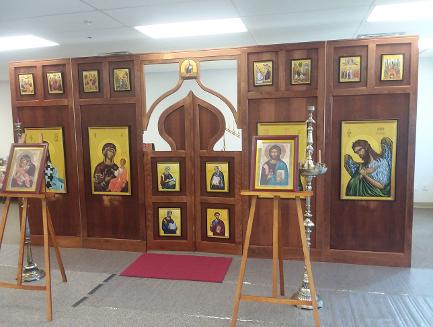 A video of Fr. Micah's most recent homily can be viewed here:
This Special Notice is an update as of 05/25/2020.
AS A RESULT OF THE MOST RECENT COVID-19 CONTAINMENT DIRECTIONS FROM THE STATE OF MICHIGAN EXECUTIVE BRANCH FOR OUR NORTHERN MICHIGAN REGION, OUR
SUNDAY SERVICES WILL RESUME BEGINNING MAY 31, 2020, AND CONTINUE INTO THE FUTURE.
We will be following the specific precautions provided below during the resumption of services:
1. The precautions and safeguards shown below will be followed until such time in the future they can be safely revised, and hopefully streamlined to allow ease of implementation:
A process of "emailing to us" prior to attendance each Sunday is being established to allow knowledge in advance of the number of parishioners to be accommodated at each service to be able to manage "social distancing".

Hand sanitizer will be available for all to utilize, and all are encouraged to frequently cleanse their hands accordingly.

All are encouraged to greet each other without hugs and handshakes.

Individuals or family units, whichever applies, are requested to select one of the "Identified standing locations" during your time inside the temple. Such locations are marked by an "X" on the floor. Adherence to the 6-foot rule is thus being implemented.


All parties are requested to wear a face mask while inside the temple. Designated Readers are permitted to lower their mask while actually reading or singing, but otherwise will adhere to the requirement.

As has been good judgement in all prior situations of illness, anyone with a persistent cough or fever, or any similar symptoms of COVID-19, should seriously consider the risk they pose to others and stay at home until such time they have achieved full recovery. This has always been the recommended procedure. Anyone with knowledge of having been exposed to the COVID-19 illness should self-quarantine for 14 days.

Availability of prosphora following Reader Services will be provided by means of an individual servings process that will prevent possible virus spread.

Individual paper cups will be used for partaking of Holy Water during the ending of our Reader Services. During this time, the faithful are not obligated to kiss a priest's hand when receiving a blessing on occasions when a Divine Liturgy is served.

Regarding the kissing of icons, many of our icons are made of a paper-based product with no outer protection such that sanitizing after any veneration involving a kiss will cause damage, as will the existence of any moisture. Thus, we encourage a process of either veneration without physical contact, or the "transfer" of a kiss by means of touching with the 2 forefingers and thumb joined in a "troika" formation.

At the same time, we should keep in mind that all icons are miraculous, and that many martyrs died in the struggle with iconoclasm and that we, as Orthodox Christians, hold icons in high esteem.
2. When coming to the cross after a Divine Liturgy, when one occurs, there will not be a veneration of the Cross, but the holy bread will be distributed without the cross. The distribution of the prosphora (holy bread) will occur either by use of tongs, or the use of a sanitary food-serving glove.
3. After the Reader Service each Sunday, the moleben "In Time of Destructive Pestilence & Deadly Plague" will be held until the pandemic has passed.
4. No "Light meal with refreshments" will be served following each Service, until further notice. Small gatherings outside the temple, weather permitting, are welcomed.
5. Please stay informed through public news outlets with more recent data and information about the spread and countermeasures to combat the spread and to assist individuals in fighting the infection who have contracted the virus. No attempt will be made here to provide more recent information.
(Our new Facebook Account is coming soon. A LINK will appear here!)