This is an interactive map provided by Google showing our
Location

for services.

Also, see below for an option for ONLINE DONATION THRU PAYPAL
All services for SSOC are being held at
1396 Douglas Drive, Suite #22C, Traverse City 49696
Our location is immediately SW of the intersection of Garfield Road and Birmley Road.
See Photo Below for
LOCATION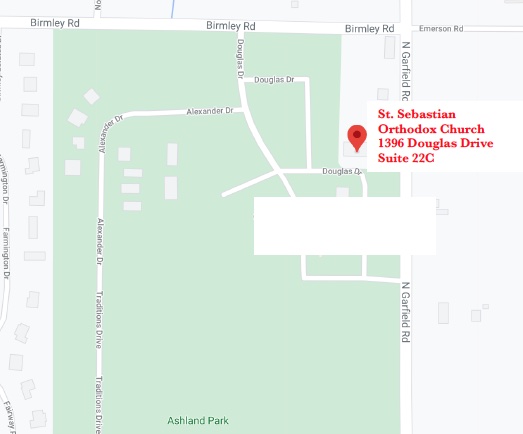 Phone Number for Fr. Micah Chisholm:

(989) 324-8773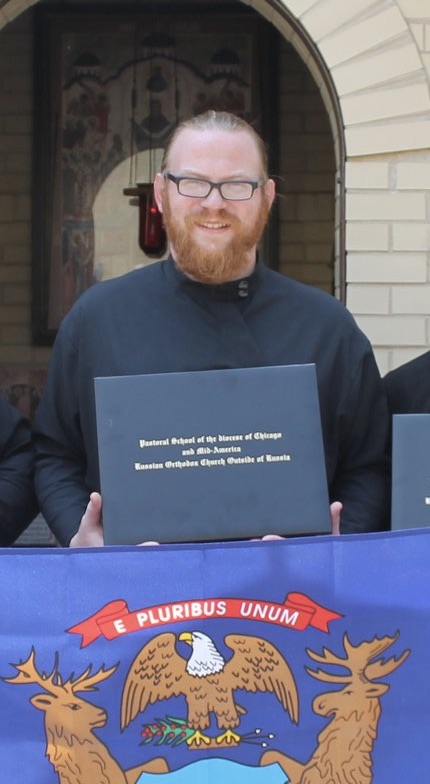 Father Micah Chisholm
Father Micah was born on October 4, 1985 and raised on the east side of Michigan's Lower Peninsula, the son of The Rev. Devin Chisholm (United Methodist Pastor) and Yvette Chisholm. He is the fourth of seven children born to his parents. The future Father Micah began his collegiate studies at Northern Michigan University pursuing a degree in Sports Medicine (2004). Upon sensing a call to Christian ministry he transferred to Asbury University and earned a Bachelor of Arts Degree in Biblical Studies (2007). Following a three year period engaged in full time youth and music ministry in the United Methodist Church, he attended Trinity Episcopal School for Ministry in Ambridge, PA and began to learn more about the historic Christian faith. He wed Stephanie Selle (of Pinconning, MI) on October 2, 2010.
After completing a Master of Arts degree in Church History (2012), he was ordained a deacon and then priest in the Anglican Church in North America and served All Saints Anglican Church in Springfield, MO for two years (2012-2014). While serving All Saints, the seeds sown while studying Church History in seminary blossomed with the discovery of the Orthodox Church. Following a period of discernment and catechesis, Micah was released from his ministry in the Anglican Church and he and his growing family were received into the Holy Orthodox Church on July 2, 2014 (The Feast of St. John of San Francisco) at St. Thomas the Apostle Orthodox Church in Springfield, MO.
Father Micah and his family returned to Michigan where he completed post-graduate studies in chaplaincy, bereavement care and crisis management. Father Micah currently works as the Social Services Coordinator for the Salvation Army Social Services Office of Cadillac, MI, assisting families in crisis throughout a three county service area.
In June of 2020 Father Micah completed the Diploma in Pastoral Theology from the Orthodox Pastoral School sponsored by the Diocese of Chicago and Mid-America (ROCOR).
He was ordained to the diaconate by Archbishop Peter, the diocesan bishop, on the Feast of the Transfiguration (August 19/6 2020) and ordained to the priesthood on the Feast of the Dormition of the Mother of God (August 28/15, 2020) at Holy Virgin Protection Cathedral in Des Plaines, Il. Father Micah is assigned as the priest in charge of St. Sebastian Orthodox Christian Church.
Joining him in life and ministry are Matushka Stephanie and their six children: Miriam, Joel, Esther, Simeon, Ezra and Naomi. They reside just outside of Mesick, MI where they are building a small hobby farm and enjoying the beauty of God's creation.
EMAIL US:
Kingdom_Forever@stsebastianorthodoxchurch.org
For a free-will donation using the PayPal link above, the future growth of our mission parish can be made more viable. Subsequent attendance at any of our church services could assist in the spiritual growth of the donor.
Note: PayPal does extract a fee for processing your donation. The fee amount varies depending upon the dollar amount of the donation, and typically ranges between 3% for smaller donations and 2% for larger donation amounts.
Our address:
St. Sebastian Orthodox Christian Church

1396 Douglas Dr., Suite #22C
Traverse City, MI 49696-8981
Please Note:
correspondence by
Postal Mail

,
can now use the same:
1396 DOUGLAS DRIVE
SUITE #22C
TRAVERSE CITY, MI 49696-8981