Divine Liturgy on Oct. 04, 2020 - 17th Sunday after Pentecost
Apodosis (Leave-taking) of the Exaltation of the Cross
A Video Of Fr. Micah's Homily Can Be Viewed Here:
Page 1
Sunday, October 4, 2020
17th Sunday after Pentecost (Tone 8)
Apodosis (Leave-taking) of the Exaltation of the Cross
No Fast
Father Micah Chisholm Phone: (989) 324-8773
[www.stsebastianorthodoxchurch.org]
[Please Note: A modified approach to reading, chanting, and singing the various portions of this Liturgy Service, while we are still in a period of "prevention" regarding any possible spread of the COVID-19 virus, will be employed. A maximum of three (3) readers/singers (possibly pairs of readers/singers) will be utilized, and they will be located a significant distance away from the worshipers. They will be wearing their masks when not delivering any "audio". Generally, out of necessity, masks will be lowered when delivering "vocalizations", otherwise breathing difficulties can be encountered.]
Entrance Hymn: Come, let us worship and fall down before Christ, Who rose from the dead O Son of God, save us who sing to Thee: Alleluia!
Resurrectional Troparion – Tone 8: Thou didst descend from on high, O Merciful One! Thou didst accept the three day burial to free us from our sufferings! O Lord, our Life and Resurrection: glory to Thee.
Troparion – Elevation of the Precious and Life-Giving Cross – Tone 1: O Lord, save Thy people, and bless Thine inheritance. Grant victories to the Orthodox Christians over their adversaries; and by virtue of Thy Cross, preserve Thy habitation.
Resurrectional Kontakion – Tone 8: By rising from the tomb, Thou didst raise the dead and resurrected Adam. Eve exults in Thy Resurrection. And the world celebrates Thy rising from the dead, O greatly Merciful One!
Glory to the Father and to the Son and to the Holy Spirit!
Both now and ever and unto the ages of ages. Amen.
Kontakion – Elevation of the Precious and Life-Giving Cross – Tone 4: As Thou wast voluntarily raised upon the Cross for our sake, grant mercy to those who are called by Thy Name, O Christ God; make all Orthodox Christians glad by Thy power, granting them victories over their adversaries, by bestowing on them the invincible trophy, Thy weapon of peace.
Page 2
The Prokeimenon (in the 8th Tone): Pray and make your vows before the Lord our God.
Verse: In Judah God is known; His name is great in Israel!
The Prokeimenon (in the 7th Tone): Extol the Lord our God; worship at His footstool for it is holy.
Epistle Reading (Gal. 2:16-20)
Brethren, knowing that a man is not justified by works of the law but through faith in Jesus Christ, even we have believed in Christ Jesus, in order to be justified by faith in Christ, and not by works of the law, because by works of the law shall no one be justified. But if, in our endeavor to be justified in Christ, we ourselves were found to be sinners, is Christ then an agent of sin? Certainly not! But if I build up again those things which I tore down, then I prove myself a transgressor. For I through the law died to the law, that I might live to God. I have been crucified with Christ; it is no longer I who live, but Christ who lives in me; and the life I now live in the flesh I live by faith in the Son of God, who loved me and gave himself for me.
From 2nd Corinthians (6:16-7:1): Brethren, what agreement has the temple of God with idols? For we are the temple of the living God; as God said, "I will live in them and move among them, and I will be their God, and they shall be my people. Therefore come out from them, and be separate from them, says the Lord, and touch nothing unclean; then I will welcome you, and I will be a father to you, and you shall be my sons and daughters, says the Lord Almighty." Since we have these promises, beloved, let us cleanse ourselves from every defilement of body and spirit, and make holiness perfect in the fear of God.
Gospel (St. Mark 8:34-9:1)
At that time Jesus called to him the multitude with his disciples, and said to them, "If any man would come after me, let him deny himself and take up his cross and follow me. For whoever would save his life will lose it; and whoever loses his life for my sake and the gospel's will save it. For what does it profit a man, to gain the whole world and forfeit his life? For what can a man give in return for his life? For whoever is ashamed of me and of my words in this adulterous and sinful generation, of him will the Son of man also be ashamed, when he comes in the glory of his Father with the holy angels." And he said to them, "Truly, I say to you, there are some standing here who will not taste death before they see that the kingdom of God has come with power."
From St. Matthew (15:21-28): At that time Jesus withdrew to the district of Tyre and Sidon. And behold, a Canaanite woman from that region came out and cried, "Have mercy on me, O Lord, Son of David; my daughter is severely possessed by a demon." But he did not answer her a word. And his disciples came and begged him, saying, "Send her away, for she is crying after us." He answered, "I was sent only to the lost sheep of the house of Israel." But she came and knelt before him, saying, "Lord, help me." And he answered, "It is not fair to take the children's bread and throw it to the dogs." She said, "Yes, Lord, yet even the dogs eat the crumbs that fall from their masters' table." Then Jesus answered her, "O woman, great is your faith! Be it done for you as you desire." And her daughter was healed instantly.
Page 3
Hymn to the Theotokos
Magnify, O my soul, the most precious Cross of the Lord! Thou art a mystical Paradise, O Theotokos, who, though untilled, hast brought forth Christ; through Him the life-bearing wood of the Cross wast planted on earth. Now at its Elevation, as we bow in worship before it, we magnify thee.
Communion Hymn
Praise the Lord from the heavens, praise Him in the highest! The light of Thy countenance has shone on us, O Lord! Alleluia, Alleluia, Alleluia!
Pre-Communion Prayer
I believe, O Lord, and I confess that Thou art truly the Christ, the Son of the living God, Who didst come into the world to save sinners, of whom I am chief. Moreover, I believe that this is truly Thy most Pure Body, and that this is truly Thine Own Precious Blood. Wherefore, I pray Thee: Have mercy on me and forgive me my transgressions, voluntary and involuntary, in word and in deed, in knowledge and in ignorance. And vouchsafe me to partake without condemnation of Thy most pure Mysteries unto the remission of my sins and life everlasting.
Of Thy Mystical Supper, O Son of God, receive me today as a communicant; for I will not speak of the Mystery to Thine enemies, nor will I give Thee a kiss as did Judas, but like the Thief do I confess Thee: Remember me, O Lord, in Thy Kingdom.
Let not the communion of Thy Holy Mysteries be unto me for judgment, or condemnation, O Lord, but for healing of soul and body. Amen.
The Many Years
Our Great Lord and Father, His Holiness Kyrill, Patriarch of Moscow and All Russia, our Lord the Very Most Reverend Hilarion, Metropolitan of Eastern America and New York, First Hierarch of the Russian Church Abroad, our Lord the Most Reverend Peter, Archbishop of Chicago and Mid-America, and their God-protected flock, this land, its civil authorities and armed forces, the God-preserved Russian Land, the Rector of this Holy Parish and all Orthodox Christians: preserve, O Lord, for many years!
Selected Hymns from Vespers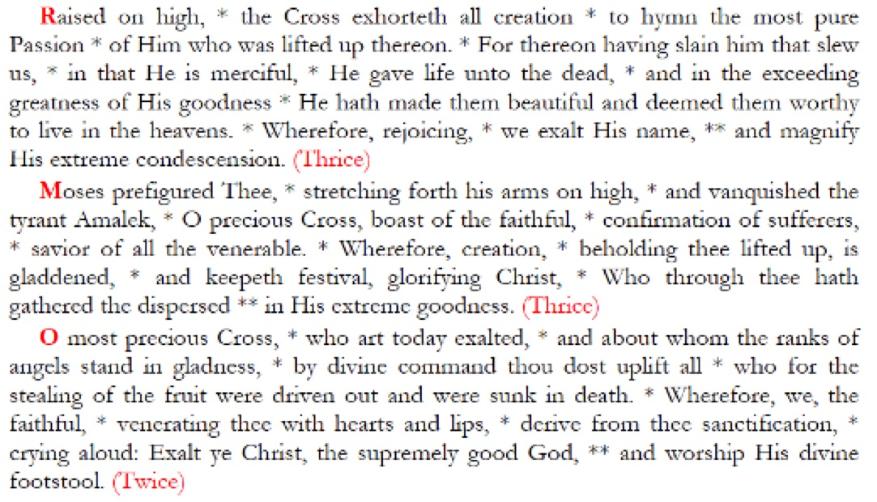 We welcome everyone to Saint Sebastian Orthodox Church.
Please stay and join us for fellowship and refreshments after the service today.